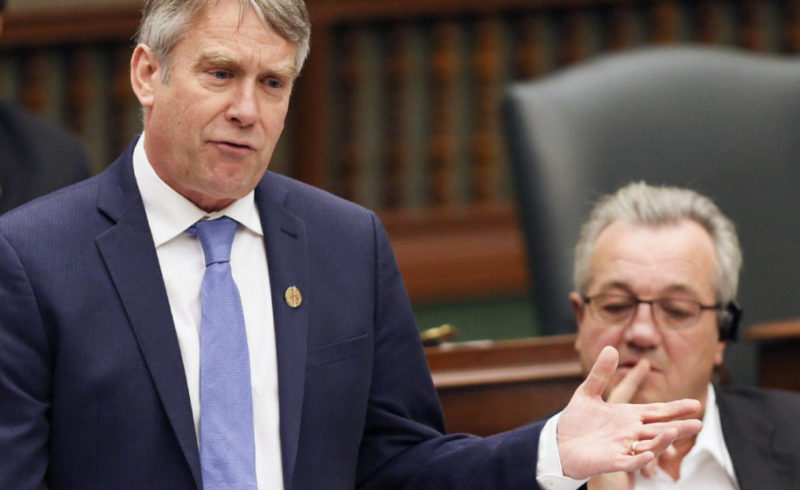 To keep more trash out of garbage dumps, Progressive Conservative MPP Norm Miller is pushing for Ontario to make coffee pods make compostable within four years.
Ontarians have a bad habit to break when it comes to coffee — and they need some help, says Progressive Conservative MPP Norm Miller.
He's pushing for all parties at Queens' Park to support a law requiring every single-use coffee pods sold in Ontario to be compostable within four years so they can be tossed into the green bin as soon as the cup of Joe is brewed.
The goal is to keep more of the 1.5 billion pods used annually in Canada out of garbage dumps.
"Ontario has a waste problem," said Miller (Parry Sound-Muskoka) Wednesday before presenting his private members' bill. He cited a recent warning from the province's environmental commissioner.
While some companies, including Loblaw, McDonald's and Muskoka Roastery Coffee Co., sell java in compostable Keurig-style pods, the majority of pods sold in Ontario are made elsewhere and are not recyclable or compostable, Miller said.
He cited compostable pods, developed by Toronto-based Club Coffee with the University of Guelph's bioproducts development centre, as a model for the rest of the fast-growing, single-serve coffee industry.
"It's a Canadian invention," said Miller, downplaying any concerns his bill would involve "too much regulation" for business.
"It's a positive regulation… It simplifies things for business as well."
The compostable pods are made from plant materials and skins from reclaimed coffee beans. They bio-degrade in about five weeks.
Claudio Gemmiti of Club Coffee told a news conference that single-serve coffee pods are a fastgrowing part of the market, making the key to waste reduction, on this front, a solution "without More from News
the consumer having to change their behaviour."
Recyclable pods are "finicky" to deal with because the cap must be torn off and the coffee grounds rinsed out and the plastic cup thrown in the blue bin, Miller said.
Eliminating them and filling the market with compostable pods would enable more municipal waste systems to accept all pods, he said. The Club Coffee-made compostable PurPod100s have been tested for composting in Muskoka, Orillia, Peel, Guelph and Niagara and are waiting to hear if they will be approved.
"Municipalities are hesitant to accept compostable coffee pods into their compost systems because they are afraid that confused consumers will attempt to compost non-compostable coffee
pods… contaminating the compost and driving up costs."
Doug Burns of Muskoka Roastery said compostable pods can be part of "the next wave of sustainability."
Miller's bill will be debated in the legislature on Nov. 23.
Private members' bills are rarely passed, but, if Miller's effort becomes law, Ontario would be the first jurisdiction in North America to require compostable coffee pods.